Description
Due at supplier end of September Pre Order available.
XFLY 80MM SIRIUS EDF SPORT JET 1100MM WINGSPAN W/O TX/RX/BATT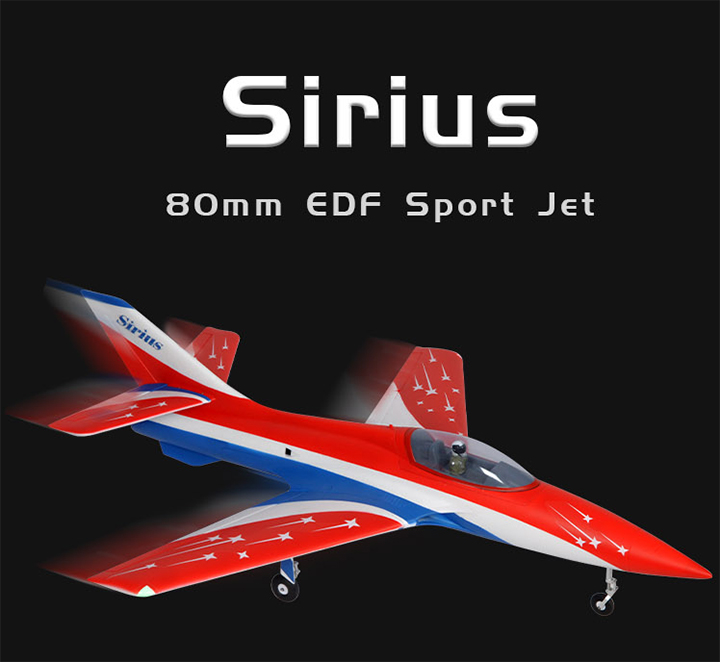 XFly-model is proud to release the first sport jet – 80mm EDF Sirius. It features low wing load, streamlined design with low wind resistance and Galaxy X-8 12 blade 80mm EDF power system that excels at both high speed and low speed performance. XFly-model engineer owns the original design of 80mm EDF system and has upgraded it into the latest version – Galaxy X-8 80mm EDF. Poered by 6S LiPo battery, high-RPM brushless in runner motor and 100A ESC dliver fantastic performance with virtually instantaneous throttle response. Its excellent top speed, vertical performance and turbine like sound effect take lead in the industry.
The Sirius possesses stable flight attitude to easily deliver the F3A aerobatic capabilities/ It is not only a good choice for the enthusiasts who enjoy high speed or aerobatic flight, but also an excellent trainer EDF jet with fantastic performance.
FEATURES
High-RPM brushless inrunner motor and high-power Hobbywing 100A ESC.
Digital metal-geared servos on all flying sur-faces and ball-link equipped linkages deliver precise response to your control inputs.
Electric retracts with CNC shock-absorbing, trailing-link struts and built-in worm shaft of 10mm diameter all combine for easy grass operation and heavy landing.
Functional and installed flaps for shorter takeoff and landing plus improved slow-flight performance.
Integrated wing connector for easy installation or removal of main wing.
Only eight screws needed for assembly and no glue required.
Removable magnetic nose cone, jet nozzle and ventral fin all with plastic cap for durability.
Large battery tray allows 6S 5000mAh LiPos for increased flight times!
Wingspan 1100mm.
Length 1312mm.
Servos 13g x 5pc, 9g x 2pc.
Requires TX/RX/Batt/Charger to complete.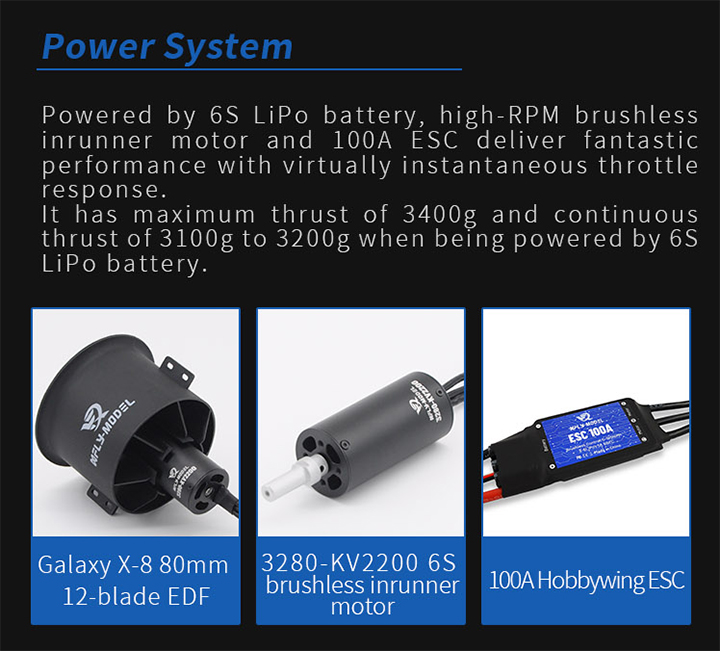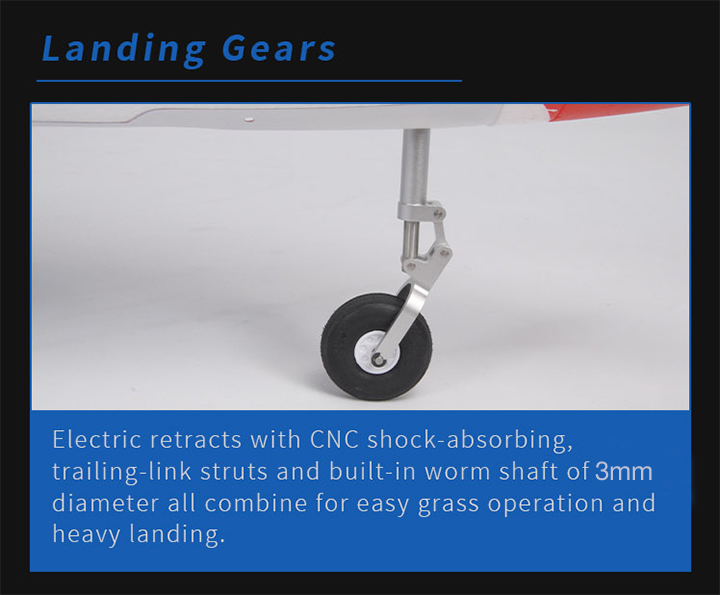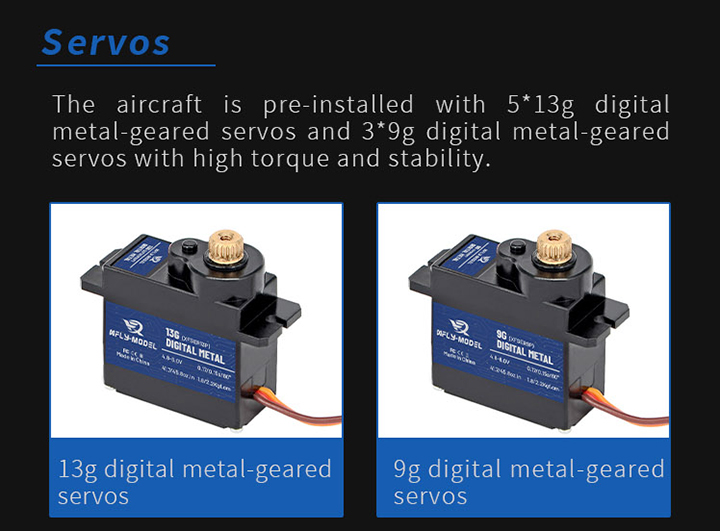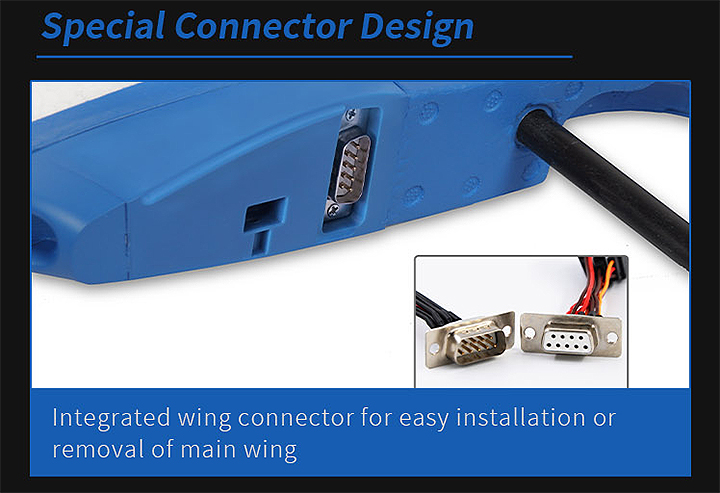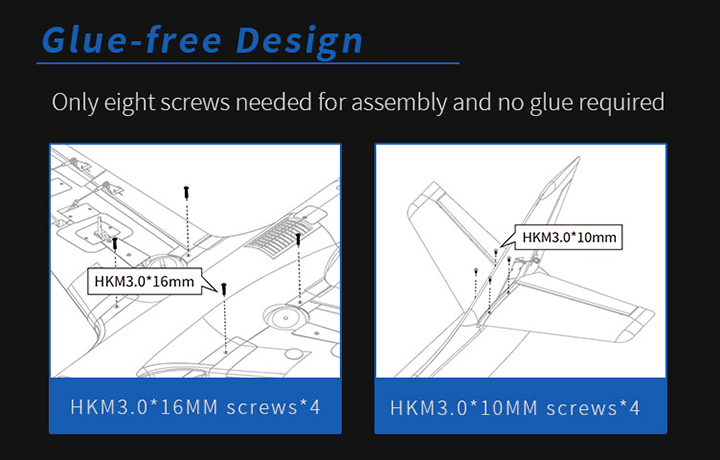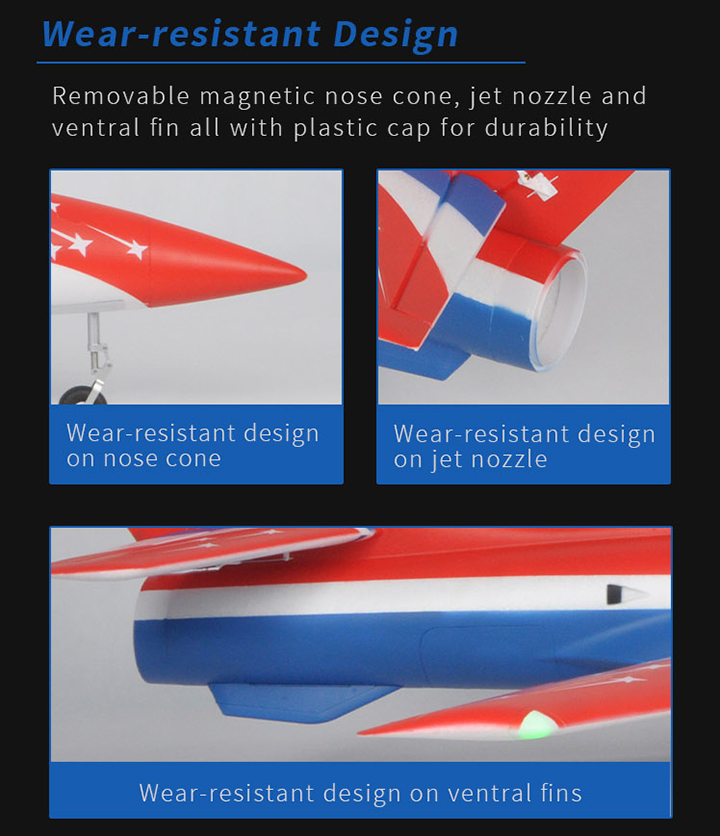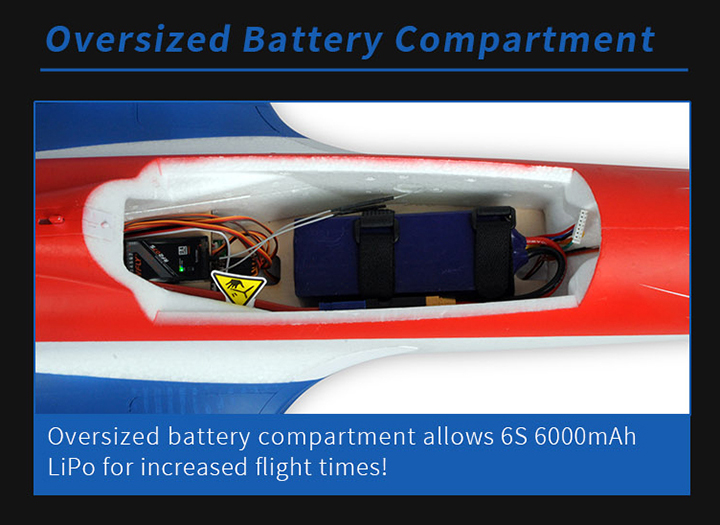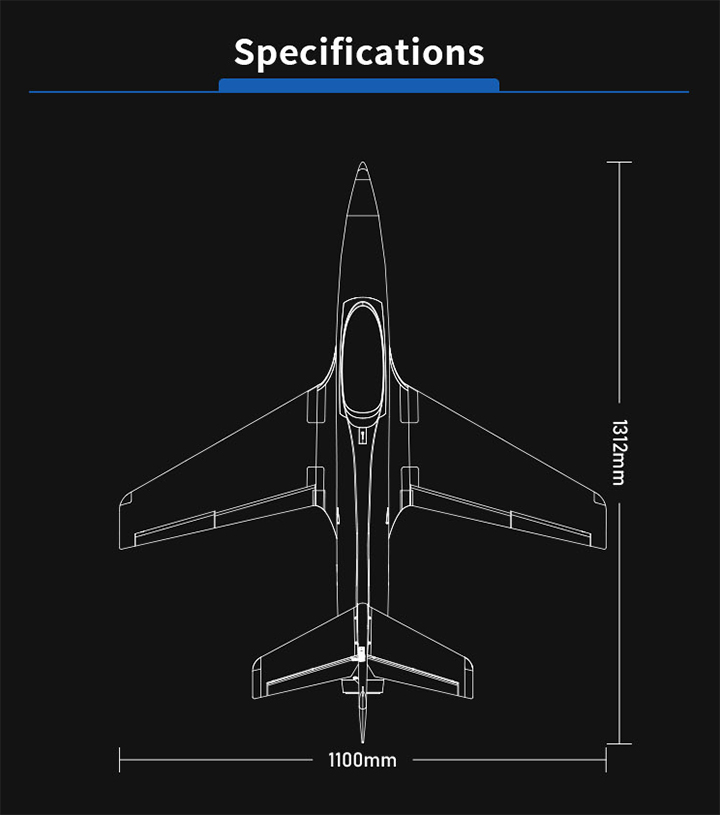 Skill Level: Intermediate/Advanced
Material: Lightweight yet strong EPO, ABS engineering plastics
Wingspan: 1100mm/43.3in
Overall length: 1312mm/51.7in
Wing Load: 109g/dm2
Wing Area: 23.36dm2
Flying weight: 2560g
Propeller/EDF: 80mm EDF with12-Blade Fan
Motor: 3280-KV2200 Brushless Inrunner Motor
ESC: 100A ESC 5A UBEC
Flying Duration: 4-8min
Sevos: 5*13g digital metal-geared servos, 3*9g digital metal-geared servos
Landing gear: Electric retracts and training link suspension struts for grass operation
LED lights: Wingtip lights *2
Other electronics: Main wiring board *1, Wing plug set*2
Channels: 6CH-Throttle, ailerons, flaps, elevator, rudder and landing gears
Recommended Battery: 22.2V(6S0 4000-5000mAh Discharge Rate > 35C (if using the battery of discharge rate more than 100C, please use the 120A ESC instead)